Books
---
Soul Secrets
On our harsh world we often feel scattered, confused, fearful, and alone.
But we are not!
At every given moment, of every day, throughout our life, we each have our own "Team" of Angels, Spirits Guides, and departed loved ones. A group of powerful and wise spirits who guide and protect us.
This book teaches you how to communicate with them!
Despite the common belief that in order for us to communicate with our "Team" we need to be "born" a medium, we don't! Because like myself, you too can awaken your built-in "sixth sense" and use it to communicate with any of your own Team members and use their power and wisdom in your life.
In "Soul Secrets", you will learn:
Each member of your Team and their unique purpose in your life.

The different signs and other ways in which they communicate with you.

The necessary spiritual work that will prepare you for communication.

The various communication techniques.

How to communicate with them! 

Soul Secrets is mainly about the Team concept but it also covers additional important spiritual topics that will help you view your life from the perspective of your soul and not your mind. This is an important spiritual perspective that will change and improve your life.

---
Readers' Favorite Review of "Soul Secrets" 02/15/2015- Original review can be seen HERE

Reviewed By Nandita Keshavan for Readers' Favorite Soul Secrets by Miki Jacobs is an interesting and useful spiritual guide meant for people interested in contacting their soul "team," which includes spirit guides, guardian angels and departed ones. What I love about this book is that it is a simple guide which first explains the author's journey to becoming a medium and contacting angels, and then proceeds to describe practical ways in which people can contact their "team." I think this book is highly relevant at a time when many people are stressed and undergoing difficulties and are interested in contacting higher beings for guidance, support and healing. The book encourages people to experience contact with these beings themselves, rather than having blind belief. It also contains lots of advice for improving vitality and energy, which is in itself important for spiritual progress.The language is easy to follow and the advice is concise and comprehensive. The spiritual and philosophical implication of the presence of higher beings is also explained. We all can reflect on how wonderful it is that God has sent angels to guide us and protect us, since our souls have incarnated to learn and grow spiritually. Understanding the big picture and our role in it is in itself a big step in spiritual progress, which is covered adequately by this book.I hope that readers will find this an inspiring book and definitely learn to call for help and support in troubled times. I also loved the concept of a team, since many people would feel less alone and troubled if they knew that they had a team always there to support and help them.
Becca Chopra's Review of "Soul Secrets" 02/25/2015 – Original review can be seen HERE

 We are souls having this life on Earth for soul growth and evolution, according to renowned medium and spiritual teacher, Miki Jacobs. How do you connect to your soul, live from your soul's purpose and achieve its agenda for this life's incarnation? With Soul Secrets, Jacobs provides a complete guidebook to help you find your answers.Miki Jacobs provides both theory – to understand the basic concepts of spirituality and working with your "Team" of Spirit Guides, Angels and Departed Loved Ones – as well as practical advice on how to make contact with your "Team" to assist you in approaching your life with soulful solutions.As Jacobs describes in her introduction, she was not "born" a medium as many others who channel spirit, but learned to do so later in her life. If you are interested in spirituality, life after death, and learning to communicate with your Team in the spirit world, the path is laid out for you in this book. From learning to meditate and quiet your mind so you can connect to spirit, to reading the signs from your Team, this book will help you align with your soul and your Spirit Guides and Angels to become a more loving, understanding and compassionate person. I learned so much from reading this book and have great excitement as I connect with my own spiritual Team following Jacobs' advice. Here, Miki Jacobs graciously answers my many questions about spirituality and her work:
 Q & A
Becca: What is the main message you would like readers to take away from your book?
Miki: There are actually three main messages. First I want people to know that despite the harshness of their lives, and the feeling of loneliness, they are never alone. I want them to know that they are surrounded by a powerful and wise "Team" of spirits who guide, support, and protect them at every moment. Second, in my book I teach that anyone can learn how to communicate with their Team, and with spirit in general, at any point in their lives. And finally, through my book, I am trying to help the readers shift their perspective on their lives to that of their souls and not their mind. A very crucial perspective on our lives on Earth.
Becca: How did you learn that we incarnate with a blueprint or soul plan for each specific lifetime? Through your Team or other spiritual teachers?
Miki: All the information in my book, including the spiritual concept of the incarnation blue print, is channeled from my Team and from other spirits who came thorough in readings and my daily meditation sessions.
Becca: Why are we born with an Ego Entity as part of our blueprint?
Miki: Despite the destructive and obnoxious nature of our Ego Entity, it has a major role in our overall growth and progress in each specific incarnation on Earth. This is because the Ego entity is supposed to encourage us toward change and spiritual growth once we recognize the outcome of its negative influence on our lives. The Ego Entity also can be used a "gauge" for evaluating and correcting our spiritual path. I often refer to the Ego Entity as "the opponent".
Becca: You mention that when we allow our Ego to influence us to engage in negative actions, the dense negative energy can block the crown chakra and our connection with our Team. What do you recommend to open the crown chakra?
Miki: Discipline the ego and manage the ego. Recognize its influence and do the opposite of what it wants. Count to ten before reacting. Align with the higher self and don't act on the Ego Entity's temptation and influence. When you are able to ignore the Ego and act from the perspective of your higher self, you will clear up the negative energy and open up your crown chakra.
Becca: Is it possible to become an Ego-less human being?
Miki: While on Earth, this is not possible. The ego is a component of who we are when we incarnate as human beings. But it can, and should be controlled and disciplined. It is an integral part of our spiritual journey on Earth. If we were to became ego-less, we would not have any more lessons to learn on this planet.
Becca: You offer very helpful tips for meditation. What would you say is the most useful tip to quiet the mind and connect with your Team?
Miki: Take the focus off of the conscious mind by using other senses. By listening, feeling the inner body energy field, or by focusing on your breathing to name a few. The mind cannot hold two loci of attention at the same time and will be quieted by selecting the one sense or sensation as the one that you chose to focus on.
Becca: What is the major benefit of being able to channel your Team?
Miki: You can gain the benefit of their guidance and use it in your life. Our main purpose from being here is to spiritually grow and they are right here, all the time, to help us do so!
Becca: If our life's blueprint is pre-ordained, how do we manifest something we want in life?
Miki: Only the major events are preplanned. Like gender, race, country of birth, time in which you are incarnating, significant people, etc. It is a framework for your incarnation but everything in between is available for you to manifest. The pre conditions are just that and are created by your higher self, your soul, to set up the circumstances for your greatest growth.
Becca: Can you explain how you send remote healing energy to someone/thing in need?
Miki: Energy is not bound by time or space and the intention can be sent anywhere at anytime with focus and intention.
Becca: How can you tell if the voice in your head telling you "Don't get on that plane" is intuition from your higher self or Team, or the voice of fear?
Miki: The more you practice channeling your Team, aligning with your higher self, and trusting the intuition, you will become more familiar with the way "real messages" sound and feel as opposed to your inner voice. The biggest distinction between the two is that messages from your Team will always be positive and encouraging in nature regardless of the information, while your inner voice will always be accompanied with some negativity like fear.
Becca: What recommendations do you have for first-time writers who want to share their knowledge?
Miki: Be authentic and true to yourself, your knowledge, and others. Hold the intention of helping others with the knowledge that you have gained through your own experience and the writing will just flow. Also, you must discipline yourself and make your writing a habit. Otherwise you can easily become distracted and never finish your project.
For more information, visit www.MikiJacobs.com.
Namaste!
Becca Chopra, author of The Chakra Diaries, Chakra Secrets, Balance Your Chakras-Balance Your Life and The Chakra Energy Diet
---
Here is an independent blogger's review from Mary Summers at sothentheysay.com; read it in full here:
http://www.sothentheysay.com/journey-to-growth/
Thank you Mary for the kind words!
Excerpt:
"I must admit – over the years I have been amazed at where my life events have taken me. I have been challenged, down, up, and opened. I have discovered new things and questioned old, but I have always known it is part of my "life's journey." It really is a beautiful circle. Maybe that is why I connect so much with travel – it just reinstates how many magical things there are yet to see or connect with in the world! One book in particular which I have fallen in love with is Soul Secrets by Miki Jacobs.  Trust me – I know this book probably isn't for everyone but it was one of the first times I have read a book where I go, "Wow, this book is exactly what I need, at this exact time (all part of the plan)."
---

Review Rating: 5 stars!

Another great review from New Consciousness Review! FIVE STARS on Amazon.

By Miriam Knight "New Consciousness Review"on August 11, 2015

It is exciting to see so many people opening up to the magic of the universe and tuning into their psychic abilities. As with artists or musicians, there are many different ways they express their vision of what they are inspired to communicate. Psychic mediums generally use their gifts to bring comfort, healing of the spirit and a better understanding of "how things work," the purpose of life and the nature of death and the afterlife.In Soul Secrets, Miki Jacobs introduces her own concept of the "TEAM," a group of spirits that surrounds each of us throughout our physical life, and help us through the transition of death into the harvest of wisdom from our earthly experiences. The Team is made up of the Archangels, Guardian Angels, Spirit Guides, and a Departed Loved One. Everyone has them, and Miki provides a detailed list of ways to connect with them and to see signs in everyday occurrences that can reassure us that we are never alone. Two-way communication is possible and immensely helpful, she says, and gives instructions on how to do automatic writing. The secret to developing your own abilities to communicate with your team is practice, especially through a discipline of meditation.

Ever since seeing the movie, Despicable Me, I've secretly wanted my own team of Minions. Now it seems that they were there all along, just standing by and waiting to be asked!
---
Available now!
Signed copies still available. Make a note in the paypal comments that you would like your copy signed.
$16.99 + $2.99 Shipping in the U.S.
Paperback: 230 pages
Publisher: CreateSpace (June 3, 2015)
Language: English
Dimensions: 6 x 9 inches
Signed Copies
Paperback available at Amazon, Barnes and Noble, and directly from the publisher.
Also Available for the Kindle and the Nook
Use these links:
---
---
---
---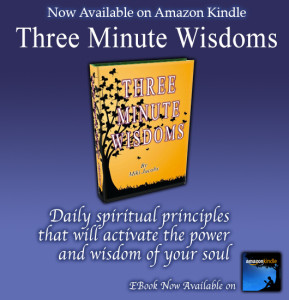 Three Minute Wisdoms contains ten spiritual principles that will help you align with the energy of your soul. Once you are ONE with your soul, you can activate its great power and immense wisdom and use it in your daily life. Aligning with your soul will also improve your well being and your life in general, as well as contribute to your overall spiritual growth and awareness. Of course all you need to do is try your best to practice each one of those ten principles every day.
Good luck!
Only .99 cents
Purchase on Amazon Here
---
2018 Gift Certificates

The gift certificates make a wonderful gift anytime and are available now!
Give a gift that will have real meaning and can change a life!
Gift certificates will be emailed within hours of purchase and make a great last minute present!
---
Half hour reading $120.00 (phone only)
One hour reading $235.00 (phone or in person)
One and a half hour reading $355.00 (phone or in person)
Spiritual Mentoring Session for Couples $420.00
Spiritual Mentoring Session $420.00
---
If you would like a gift certificate for any other service, email me and I will take care of that too!
-Clayton Jacobs
---
Spoken Word CD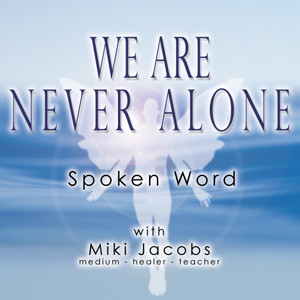 As a medium Miki made it her mission to transfer the spirit worlds message that we
humans are never alone and are literally surrounded by powerful divine helpers who
like to be called our "Team". Our "Team's" sole purpose is to help and guide us
throughout our Earthly life to assist in our spiritual growth. Our "Team" consists of
many beings in the spirit world, including Archangels, Guardian Angels, Spirit
Guides, and departed loved ones. On This CD Miki will provide detailed description
of each member of our divine team, how to get to know them, and how to enrich your
life by bringing in your "Team".
Running time 1 hour

---
Guided Meditation CD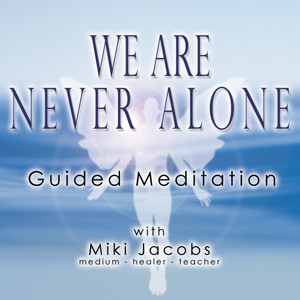 Take  some peaceful time for yourself with this guided meditation CD and rediscover
your spiritual team on the other side. Your Archangels, Guardian Angels, and Spirit
Guides are waiting excitedly for you to call on them and spend some time together in
a beautiful, shared meditation space. This disk will guide you to meditative mindscape
where you will find your team waiting to connect with you, give you support, and
express their unconditional love to help you on your journey through this life.
Running time 30 min.

Save
Save